Deep dive with WebEngage CTO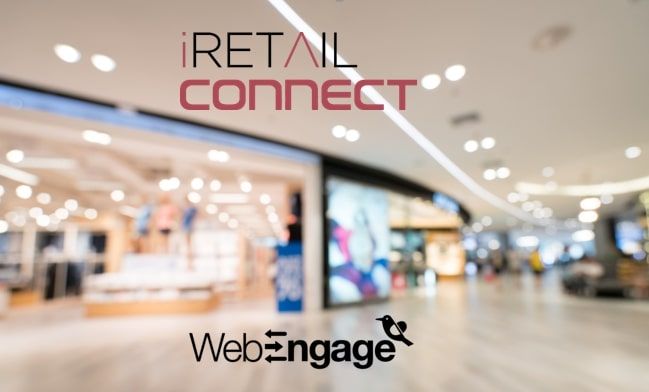 How has the pandemic impacted commerce growth? And what are the main challenges that retailers must contend with going forward into the new year? Read our Q&A with WebEngage to find out...
What does WebEngage do?
WebEngage is a customer data platform and marketing automation suite that makes user engagement and retention simplified and highly effective for consumer tech enterprises and SMBs.
We help brands create powerful communication campaigns that are hyper-personalized, and highly contextual for true one-to-one engagement, all automated, triggered and rule based.
We have experienced an explosion of digital penetration in the last nine months. How has that impacted commerce growth? And what are the main challenges that retailers must contend with?
In the early days of the pandemic, the business impact was felt equally by everyone - irrespective of industry. Slowly and steadily, businesses started to react, making changes to their marketing strategy along the way as and when the situation evolved.

One clear marketing strategy that emerged for consumer businesses was maintaining regular communication with the clientele. From our database, we experienced a 20-25% dip in volume of messages being sent in April-May. The recovery was quick however, and the message volumes shot up heavily since then, and have been growing still, consistently.
Some of our top brands have been operating at more than 100% volume of their regular monthly numbers, which goes to show the growing demand for digital services and solutions in the market.
The pandemic has greatly accelerated digital growth, primarily driven by the need to social distance and the extended lockdowns imposed across the globe. E-Commerce has been a big winner, thanks to its inherent ability to mitigate human interaction in the shopping experience. Even in other industries like Food delivery, Online grocery, Fintech, OTT, Media & Entertainment, demand has skyrocketed.

People have been confined to their homes for unusually long periods of time. This has stirred up a massive pent-up demand for online products and services, and digital solutions have flourished. The convenience of online shopping, especially in trying times has been an eye-opener for consumers. They have established a unique relationship with new-age brands that are digital-first, and are committed to a consumer-first approach, something that was not a part of traditional offline businesses.
Digital growth has given a new lease of life for brands, ensuring business continuity and a higher level of customer service than we previously thought was possible.

For retail brands, the 'phygital' reality of shopping experience is going to be a permanent change. It will be crucial for retailers to look towards educating their customers about steps being taken to deliver a safe shopping experience, both in-store and online. Some brands have managed to do this effectively with educational content, and reinforcement of messaging. With the vaccine on the horizon, retail will certainly be picking up, but customer sentiment will not change overnight - it will be a slow march back to the top.
What impact has the rise of the digitally savvy, "always on" consumer had on a retailer's ability to engage with the customer? How should retailers tackle this?
The impact has been massive - from a pure marketing perspective. The number of data-driven insights that are being generated now for consumers is immense, if you compare it to even 5 years ago. If you go further down to 10 years, then we are in a whole new ball game of data science and accuracy.

The consumer today is digital-savvy, tech-reliant, always connected and traverses the web via multiple devices (minimum 3 devices, based on stats). Each digital interaction is unique, and a part of the customer's brand journey that may or may not end up in a conversion in the future.
The top brands are heavily focussed on harnessing this data to understand consumer behaviour better. The idea is to create experiences that add real value to the consumer's life by understanding them and their preferences better. Rather than throwing a random discount coupon to the consumer, the idea is to predict the customer's next purchase, want or need, and connect to them about it in a personalised manner.
With omni-channel marketing automation, marketers are leveraging all of this data into creating hyper-personalized campaigns that bring context into the picture. Even if you look at WebEngage, we started off as a web-only tool with limited reach. Now, we offer 10 channels of engagement that can be leveraged by marketers to reach the customer exactly where they are, at the right time and place.
Retailers need to pay special attention to their data science division and ensure that their CRM and engagement teams are crafting fresh insights that reflect the current state of the consumers on the platform, what is it that they are looking for the most, what they really like/dislike about the products and services, and so on.
This information is critical for customer engagement, more so from a campaign management perspective - understanding critical use-cases like re-activation, conversion-oriented goals, retention, increasing the CLTV, etc.
If your communication strategy manages to do good things consistently by tapping into the latent customer need, and reaching out to the right channels, then retail will manage to create a growth funnel that will be hard to replicate by competition.
What is your view on exponential growth of mobile adoption in e-commerce?
I believe that it is natural progression, a sign of things to come as we move forward to a mobile-first economy, globally. We saw this happen in India, roughly a decade ago, when E-Commerce started to pick up. Back then, E-Commerce was still in a nascent stage, and adoption was nowhere near the levels that we see today.
The rise of E-Commerce was fuelled by the data and smartphone revolution in the sub-continent. The country was flooded with cheap, affordable smartphones, and access to dirt-cheap mobile internet put the E-Commerce industry into overdrive.
Now, it has become a mainstream channel of shopping due to the convenience it offers to people. As a result of the pandemic, E-commerce now plays an even more crucial role in retail operating models, since it highlights the importance of having a solution that allows people to shop safely from the comfort of their homes.
We will see some long-term shifts in consumer behaviour, one of which will be the mainstream adoption of E-Commerce as a major channel.
For marketers and brands, it is important to understand the customer's journey on mobile platforms effectively. The trends and insights that we are picking up across industries are helping us shape better customer communication campaigns that are tailored to very specific, constantly changing tastes and preferences.
Secondly, brands that are still on the fence about going offline need to take the plunge immediately and focus on shaping a mobile-first approach for their online presence. The rise of D2C is a major plus for offline majors who are going to the customer directly, in a bid to capture the market effectively.
How important is it for retailers to build a "single view of the customer"? Which key principles should be front of mind when they embark on that journey?
The importance of data is unparalleled in the attention economy, where brands are struggling to compete for the fleeting attention span of their customers. Data gives brands the edge they need to create 'wow' moments on a recurring basis.
For marketers, it is imperative to have access to the highest quality data possible, so that they have a clear understanding of the customer they are trying to serve. More often than not, it is a struggle for marketers and brands to create a pool of data that is accurate, complete, easily accessible and available to multiple stakeholders.
With WebEngage, our product evolution happened over multiple years of serving customers who have collected billions of data points, but never really learnt to use it all effectively. It is because the data was always being stored in silos that never communicated with one other.
We set about trying to change that and created a solution that lets marketers create a single source of truth for data - a repository that will provide a unified view of the user to marketers, at any given point of time.
Imagine the power this gives to marketers that are trying to create a powerful marketing strategy. It gives a sharp understanding of the current customer base, their behavioural trends and what they have been up to on the platform.
Marketers can create highly targeted campaigns that are incredibly effective, thanks to data. The layer of intelligence that data adds to the campaign creates discernible, tangible value for brands that cannot be copied easily - a strong competitive advantage to have.
How do you see marketing automation contributing to a retailer's ability to drive commerce growth and effective consumer engagement in "the new normal"?
We have coined the term 'engagement-led growth' for this exact thing. Before the pandemic hit, brands were busy pouring millions into the coffers of advertising giants to acquire customers. There
was no real thought given to what happened once a brand secured a customer. As a result, the churn rate remained staggeringly high, and the leaky-bucket problem ensured that the economics never worked out favourably.
Still, it offered a steady stream of leads with an unknown quality variant, and brands stuck by it for years. After the pandemic hit, things changed. Marketing budgets started to get slashed, the business outlook for the future got hit, and brands started thinking about survival, and the longevity of operations.
This called for a change in plan, a new strategy that was equipped to deal with the uncertain future and ushered in growth despite the difficulties that lay ahead.
We highlighted this as a golden opportunity, where brands could leverage their most important asset – their core base of loyal customers - to extract more value and ensure that growth was still possible.
With marketing automation, we have perfected an 'engagement-led marketing strategy' that focuses on contextual, humanized and hyper-personalised engagement strategy for consumer brands. The idea is to re-activate and convert existing customers, ensure repeat purchases, and manage to do this predictably.
It reduces the burden of ploughing investment into channels of acquisition to acquire leads that might not convert. Instead, marketers improve their original investment into existing customers to increase the average ticket sizes, ramp up conversion rates and build a loyal customer base that brings in customers organically via the evangelism route.
For the online retailer, this is the right time to build their 'tribe', tap into the power of community, and create a powerful group of evangelists that swear by the brand experience, who in turn become your most effective channels of marketing, not just helping you drive up growth metrics, but also bring in new customers effectively.
Final question: Are there two or three guiding principles you have to share around driving effective consumer engagement and commerce growth?
Build an effective martech stack for your consumer brand that offers data storage, unified user interface, optimal campaign management, analytics and most importantly, the ability to personalize at scale.
Build your business intelligence division - understanding your customer data well will set your campaigns apart.
Analytics and measurement - keep a close eye on success and growth metrics of your campaign. Regular course corrections will ensure a high performing, sharp campaign.