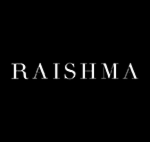 What started solely as a couture house 18 years ago, developed into multiple international fashion labels. Maintaining a bespoke and bridal service, Raishma developed a ready-to-wear line for the premium high street market. Using her extensive expertise as a couturier, Raishma managed to develop a commercial line with affordable dresses without comprising on the quality and design aesthetic.
Raishma launched online at John Lewis and House of Fraser in 2016, and currently retails with stockists across the Middle East, Australia, India and the USA.
Raishma has presented her collections at London, New York and Paris Fashion Week, The Mercedes Benz Fashion Week in Doha, The Brides Show in Abu Dhabi, and most recently at the Oriental Fashion Show in Marrakesh. Raishma was recently awarded with Best Retail Business of the Year at the British Small Business Awards.
In 2018, Raishma launched a luxury women's pret brand 'CLAIY 'in addition to a luxury kids wear label 'CLAUWD'
Located in Marylebone, London; Raishma's flagship boutique houses her ready to wear collections and couture gowns. The designer's boutique has a luxurious, award-winning interior, offering the perfect environment for her clientele to embark on a unique experience.