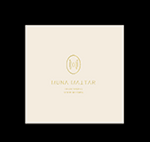 The Muna Mattar brand can be defined as contemporary, modest with a price point between $300-800 per piece.
I wanted to create a brand that stands for high quality and contemporary style. "Perfection in every stitch" - that's how one of my customers described my dress recently, and I think that it could be the motto of everything that I do, whether it's choosing the fabric, designing a silhouette for a new skirt or creating a handmade embellishment.
I work only with the best natural fabrics such as silk, linen, wool, taffeta, and cotton, focusing a lot on the the production process. High quality is a part of a brand's DNA. I would like Muna Mattar to be recognized by consumers as a brand that constantly delivers the finest quality in its designs. I want my customers to feel that they are wearing beautifully crafted pieces that make them look modern, fresh and creative.