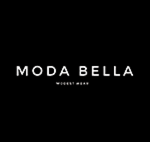 We design and provide fashionable, modest, quality clothing at affordable prices. Our clothes are sourced from all over the world - and provide unique style that matches all personalities and fashion senses. We only bring a select amount of each piece into our store, making shopping at ModaBella a new experience every time.
ModaBella was simply an idea, that was conceptualized by a Calgary mom who in 1985 had moved to Calgary from Brazil. Modest and fashionable clothing were both hard to acquire and difficult to afford. After doing a bit of research, she realized that many other women, both Muslim and non-Muslim, felt the same way. With the family's connections within the Calgary community and her dedication to helping women and serving the community, ModaBella was launched.

ModaBella is more than just a modest and fashionable clothing line. We stand for women's empowerment and taking pride in one's identity, especially in these critical times. Having a purpose beyond selling clothes doesn't just make them successful, but it also sets ModaBella apart from their competitors as a distinct and meaningful brand.