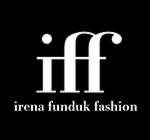 Irena Funduk Fashion is a demi - couture fashion brand, modern, fresh and unique, presenting her aesthetics principals since 2005. The founder Irena Fun-duk Ali, PhD, born in Slovenia, is since 2015 creating modest fashion collections with a signature Aneri Amina.

Modest, but still Elegant femininity, expressive combinations of colors, rasters, textures and relations of different volumes are the basic principles of her unique collections. With an innovative twists and bold combinations of fabrics, collec-tions are original interpretation of designer perception of modesty. In many as-pects collections are an authentic dance between light and shadows of chaotic world today. Woman's identity therefore needs to be protected and treasured with a highest standard. Many collections are made in natural fabrics, using envi-ronmentally friendly techniques, with a common wish, to create a sustainable garments, which can be worn for decades.
Protected feminine beauty is the leading story of Aneri Amina collections. Cover dresses are therefore always recommended and available in many variations, ma-terials and innovative asymmetrical approaches.

Aneri Amina - 2019 Dubai - Pret A Cover™ Buyers Lane, The Retail Summit Edition - is presenting A/W 2019/20 collection Stars in us. Collection consists of maxi dresses, trousers, coats, cover dresses and specially designed hijabs. The collection is inspired by the life-after or afterlife, capturing the common idea of harmony, peace, unity, freedom and love.

The inspiration of the collection is the signature which we are all caring inside of us, the unutterable logging and the question … where are we going? Collection of multi nationalities, variety of identities and cultural contexts, based in modest aesthetic principal and carrying a common destiny - Stars are already in us.