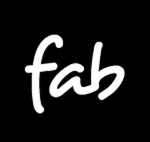 FAB stands for my initials and for a fabulous

We focus on providing stylish, simple, and contemporary pieces for the modern women and mostly focus on the modest girl.
We believe in sustainability as clothes are the second biggest cause of pollution in the world after the petrol.

We design our pieces in a way that can be worn in many way and time and you can change it from casual to chic with small twists and the right accessories.

We do in-house tailoring to ensure that the client gets her own unique couture experience with reasonable prices. We believe in quality and not quantity.
We always have our ready to wear collection available for immediate purchase.
We have our own signature look. Our customers can recognize our products through feminine and simple style.
We have worked with many local celebrities, bloggers and TV hosts. We worked with VIVA for two ads, Zain for one ad, and with Bahrain TV for the Bahrain national day.
Our customer's ages are mostly between early 20s and early 40s. We deliver worldwide, but most of our customers are from Bahrain, Oman, and UAE from the Gulf, as well as Turkey, UK, and USA.