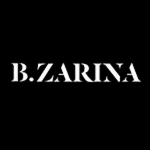 Founded in 2015, B. Zarina is the lifetime vision of sisters: Shazia and Kulsoom. After years of designing Hijabs through their company Unique Hijabs, we decided to pursue their dream of launching a design house that caters to the modern modest woman.

Had it not been for the struggle of our grandmother, B. Zarina (to which the brand is named) endured we would have never had the skills to create a global modest fashion line. Our grandmother was left a widow with 6 small children in Northern Pakistan where working or getting an education are not an option for most women. To survive and take care of her young children, she sewed traditional afghan hats, burkas and shalwar kameez. Her talent of sewing and designing was passed down to our mother and then to us. You could almost say it's an innate talent because it's something we have been doing since a very young age.
Having been born in Northern Pakistan and understanding the struggle women endure in this region, including our immediate family, we were determined to complete our education and move unto successful careers. Though designing was a passion for both of us, our determination to get a higher education was just as important. So we both set out on their individual paths only to come back together for our love of fashion.

B. Zarina sets out to redefine the modest clothing category by offering high quality, on-trend clothing at contemporary price points. Each of our designs is an innovation in modest fashion. Filled with metallic touches, laces, and rich colors over a black canvas is a collection of designs that is fit for a Modest Queen. Hand embroidery, long silhouettes and stunning head-wraps complete these pieces. With each collection, we aim to create beautifully made modest clothes that appeal to women of all backgrounds and mesmerize everyone who sees them. It's important to us that we always use the finest materials and enhance them with beaded embellishments to create our garments. Using our combined 30 years of experience in design and garment-making, we were able to source beautiful fabrics that allow us to present a luxurious look. Most importantly, we've been able to create the modest fashion line we've always wanted while keeping our prices modest, too.
At B. Zarina we feel that modesty goes beyond just dressing for religious purposes and dressing modestly doesn't mean you have to compromise on style. We seek to provide women with effortless stylish pieces that will help them present their best image to the world. Through our ecommerce site BZARINA.com we are able to offer shipping to over 150 countries. Partnering with ecommerce marketplaces like Amazon, Modli and Haute-Elan we are able to reach markets through-out the US, Europe and Middle-east.
Our management team includes co-founders Kulsoom Gul and Shazia Gul. Kulsoom is an ecommerce business expert having worked on business strategy at Amazon. She holds a BS in computer science and economics from Rutgers College and a MBA from Duke University. Shazia is an ecommerce expert and entrepreneur, having started one of the first hijab brands globally, "Unique Hijabs", which has been featured in Teen Vogue, Allure and glamour, as well as countless T.V shows. Shazia holds a MD from Sindh Medical College. Both Shazia and Kulsoom are co-designers at B. Zarina.