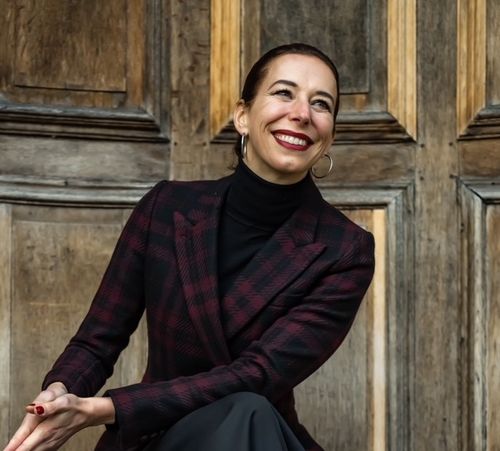 Kristina Blahnik

Kristina Blahnik, CEO of Manolo Blahnik Limited, is both a businessperson and a creative, a rare fusion who has successfully steered the family run business for over a decade, keeping soul and integrity at its forefront.​  ​
"To optimise, not maximise" is Blahnik's key ethos, believing in making decisions driven by heritage and creativity, rather than fashion and trends. Manolo Blahnik is a brand with genuine soul and sincerity; a legacy which Blahnik has dedicated herself to protect. Unlike many CEO's, she plays a pivotal role in the creative process and development of each collection. Alongside her uncle Manolo Blahnik, she visits the factories in Milan and with an inherent understanding of proportion and detailing – she helps make design visions a reality. ​
Blahnik's journey began in 2003, when her architecture practice DNA designed a space for the brands first exhibition at the Design Museum. As a chartered architect Blahnik has an exceptional eye for detail and why the leap from architecture to fashion has been such a natural transition. Since joining her uncle and mother full time in the family business in 2009, Blahnik has been an integral part of the company's many successes and stepped into the role of CEO in 2013 following four years of immersing herself cross departmentally to fully understand all business functions.
Building relations both locally and globally, Kristina Blahnik selected brand partners very carefully when upscaling the business. Commercial activity was an early focus for Kristina, and in 2010 she led a collaboration with Liberty London, an enormous triumph and stand out moment for the Manolo Blahnik. In 2012 the house partnered with Kurt Geiger to increase the UK's retail footprint in Harrods, Liberty London, and Selfridges. Knowing the importance of global expansion, Blahnik looked to Asia and selected the esteemed Bluebell Group in 2016 to oversee the distribution and retail development in key territories within the market. More recently, 2020 saw Manolo Blahnik launch on the leading global luxury ecommerce platforms Net-A-Porter and Mr Porter, a partnership which Blahnik spearheaded.  
Alongside commercial ventures, Blahnik has also been fundamental in creative collaborations, working with global phenomena Rihanna on a three-part collection first seen in 2016. The same year a co-branded project with Swiss ready to wear label Vetements, which won the Best Collaboration at the Footwear News Awards launched during Paris Fashion Week. The highly anticipated launch of the brand's first ecommerce platform was another highlight of 2016, all of which would not have been possible without the leadership of Kristina.
The momentum did not slow down and in 2018 four standalone stores in Doha, Geneva, Singapore, and the brand's first flagship men's store in London opened. Store expansion continued with further store openings in Paris, Taipei, Tokyo, Korea, and Hong Kong growing the retail footprint to 309 points of sale in 30 countries with 20 standalone stores worldwide to date. During her tenure Kristina has been responsible for 18 standalone store openings and counting.
The Manolo Blahnik Archives: A New Way of Walking was launched in 2021 to mark the 50th anniversary of Manolo Blahnik. The immense project has been a long-term ambition of Kristina Blahnik who has dreamed of digitizing the archives for over a decade and was designed under her direction. A virtual world themed across five rooms celebrating the past and present, it will grow and evolve with the brand in the future. Available to a global audience, the experience is fully certified as AA compliant to ensure it is universally accessible to most.
In 2022, Manolo Blahnik for Birkenstock launched, a two-part collection consisting of five styles, designed by Kristina in partnership with her uncle. The first release of the collaboration was revealed in March 2022 with acclaimed success worldwide, selling out globally on the day of launch. The collaboration came to fruition following Birkenstock's 2019 Personality Campaign which Kristina featured in alongside Manolo, telling their personal story and connection with the brand.
Blahnik is an avid supporter of mental health and in 2019 made a personal and professional commitment to UK based charity, The Mental Health Foundation.  In 2020 during the COVID-19 pandemic, the Manolo Blahnik Smile Initiative was launched. The initiative aimed to promote better mental health through a series of at home activities from colouring in Manolo's sketches, to a selection of his favourite books and films, each activity was designed to provide a sense of escapism and encouraged the global community to smile, even in the most challenging of times.
Philanthropy has always been at the forefront of the Blahnik business and since 2020, significant donations to four incredibly worthy organisations have been made. The Mental Health Foundation, our main charity partner received funding for a vital research project on the effects of COVID-19. The Wild at Heart Foundation, a charity focusing on the rescue, adoption and sterilisation of stray dogs globally received a donation to develop and roll out the Be Kind programme in UK schools nationwide. The programme aims to teach vital lessons on compassion and empathy to children from all backgrounds through a series of workbooks and education tools. The Boris Lawrence Henson Foundation a US based charity eradicating the stigma around mental health issues in the African American community and finally The Red Cross Ukraine Crisis Appeal, to provide humanitarian aid to all those affected be the war in Ukraine.
In her ten-year tenure as CEO, the positive impact Kristina Blahnik has had on the Manolo Blahnik business is tremendous. By the end of 2022 she will have grown the full-time company employees from 10 people to 217 and continues to spearhead the ever-growing retail network which currently stands at 309 points of sale globally.
Kristina Blahnik's vision is clear and pure; to lead an innovative, creative team that can push boundaries and challenge the status quo whilst remaining true to the Manolo Blahnik core values of family, creativity and artisanry. To protect the legacy.   
About Manolo Blahnik
With a career spanning almost 50 years, Manolo Blahnik is one of the world's most influential footwear designers. His shoes have spellbound an international set of adoring and loyal devotees across the globe. Blahnik is a craftsman. To this day he makes a trip to the factories in Milan every season for a few weeks to personally bring to life every collection. All the shoes he develops are based on his sketches which are translated into prototypes at the factories. The exquisitely shaped lasts and heels he creates for his shoes are still perfected with his very own hands.
Through the years Blahnik's achievements have been recognised by various bodies in many countries, most recently the Couture Council of America and one of the biggest an Honorary Commander of the Most Excellent Order of the British Empire (CBE) awarded by Her Majesty The Queen. He has also published numerous books, the latest being The Art of Shoes with Rizzoli in 2017. Most recently Mr. Blahnik was awarded the Luxury Legend Award by the independent luxury body, Walpole.
Along with a leading women's line which includes evening and day bags, the brand also has a successful men's collection.
Manolo Blahnik has 318 points of sale in 35 countries worldwide with 18 standalone stores and a re-launched ecommerce platform - manoloblahnik.com.