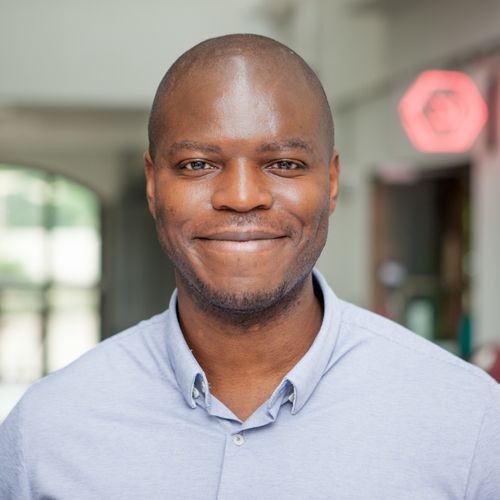 Emmanuel Eribo

After graduating from Bath university with a BSC in Psychology Emmanuel spent 8 years working in the city on multiple trading floors at HSBC, Morgan Stanley & CitiGroup.
There was a lot of joy that came from working in a fast-paced working  environment of investment banking but selling intangible products to people we didn't know was unfulfilling. In 2008, Emmanuel Co-founded the brand, Butterfly Twists, the notorious ballet shoe brand fronted today by the likes of Catherine Zeta-Jones. As CEO Emmanuel guided the business to global success, selling over 2.7million pairs in 66 countries around the world, opening 30+ monoband stores and achieving tens of millions of pound in sales. The rapid expansion of Butterfly Twists spring-boarded Emmanuel from a kitchen table in Shepherd's Bush into the world of mass manufacturing – an industry which they knew little about. Each journey to the Far East forced the Emmanuel to confront the realities of overproduction and environmental damage caused by the fashion industry. Standing in a warehouse the size of a football stadium with 70,000 pairs of shoes in front of him, the idea for Emmanuel's next venture was planted. Developing, a new, more progressive shoe brand that would champion change in the industry and operate with 100% sustainability – LØCI was born.
Inspired by the concept of a disruptive production model known as 'Vertical Integration', LØCI promises to carve a niche in the fashion sector and set new rules for footwear production – a bold departure from the 'fast fashion' models adopted by many online and high street retailers. Based on the ethos that 'the world doesn't need more shoes', LØCI focuses on monthly production runs scaled up or down to meet demand, manufacturing as little product as possible. In 2021, LØCI launched to market with its first collection of stylish vegan trainers. Throughout the LØCI journey, Emmanuel continually searches for new ways to do better, spending time looking at the supply chain, ensuring all materials are 100% vegan and donating 10% of proceeds to ocean charities.
Since launching, LØCI has partnered with like-minded individuals who are passionate about creating contemporary ethical footwear – including a celebrity collaboration with the actress and environmental activist Nikki Reed. The partnership is a reflection of the brand's vision to constantly innovate and improve through relationships with industry authorities at the forefront of their fields.