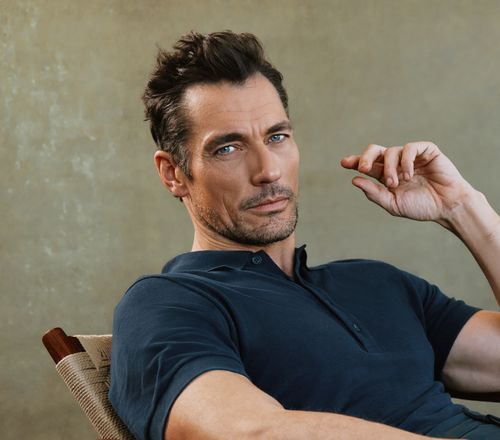 David Gandy

Founder
,
David Gandy Wellwear
British supermodel David Gandy  is one of the most recognisable faces in fashion. After winning a televised modelling competition at the age of 21 he went on to transform male industry perception and standards with his muscular build, becoming the world's first and most successful male supermodel. He has worked with some of the biggest brands and the best names in the industry, known for his iconic campaigns that have become global sensations.
In 2006 he became the muse of exclusive designers Dolce & Gabbana, annually starring in their apparel campaigns but is now recognised internationally as the face of the hugely successful "D&G Light Blue" fragrance, currently one of the world's top selling male fragrances.
The iconic campaign cemented David`s position as the only international male supermodel, with a 50ft billboard in Times Square, over 11 million internet hits to view his campaign and global recognition. His face then graced the side of Virgin America planes in another awe-inspiring campaign for Banana Republic.
David boasts an envious portfolio of editorial work including the covers of VMan, L'Optimum and GQ, shooting with some of the most sought-after international photographers including Mario Testino and Steven Meisel. David has graced the covers of many high-end international fashion magazines including, Esquire, L'Officiel Hommes, Details, The Rake, Attitude and many more. Mario Testino said of David; "David has something of what the 1980's supermodels have. He radiates health and positivity. I think he has what it takes to be very big. It's exciting because it signifies a real shift in men's fashion. The male model world is changing."
In 2012 David was the only male model to represent his country in the fashion segment of the Olympic Closing Ceremony. He also showed his ironic comedic skills when he starred alongside Kate Moss, Stella McCartney, Joanna Lumley, and Jennifer Saunders in the British iconic comedy show Absolutely Fabulous.
In 2012 David was invited to join the London Men's Collections committee, and uses his position as official ambassador to be a staunch advocate and driving force promoting British fashion.
In September 2014, David launched his own range of underwear and loungewear `David Gandy for Autograph` designing and modelling as part of his ongoing collaboration with British Highstreet favourite Marks & Spencer. The launch was promoted internationally at public events held in London, Paris, Ireland, and Hong Kong. Building on the success of the loungewear David expanded the range with M&S to create an iconic swimwear line in 2015; at launch, a pair of his shorts was sold every minute.
In 2021 Gandy celebrated 20 years in fashion and marked two decades of experience by launching David Gandy Wellwear which combines two of his great passions; style and well-being. Throughout his career Gandy has actively campaigned for mental and physical health long before they captured the zeitgeist of recent years. It was his belief that "clothing shouldn't just make you look good, it should make you feel good too", which led to Wellwear; a world first concept bringing well-being and wardrobe together. 
David is also an ambassador for Battersea Dogs and Cats Home and another worthy charity ` Achievement for All` supporting children in schools to achieve their full potential.
Alongside modelling, style and his philanthropic work, Gandy is known for his love of classic cars and their restoration. He has raced Jaguars twice previously in the historic Italian Mille Miglia and has recently driven his 1954 Jaguar XK120 in the Mille Miliglia Experience, UAE Edition.
About David Gandy Wellwear
David Gandy Wellwear is a new clothing category combining wardrobe and well-being. In a world where we are increasingly educated in self-care, Wellwear is bringing the clothing industry up to speed. A collection of pieces designed to support living well in the world sets the brand apart; this isn't activewear, sportswear, loungewear, nightwear, casualwear or leisurewear - it is Wellwear.
David Gandy Wellwear takes a multi-sensory approach to design, exploring the scientific benefits of soft, comfortable clothing and the belief that every piece should be both physically and emotionally durable.
With studies showing that simply touching smooth fabrics can enhance psychological well-being and reduce negative emotions, Wellwear's use of tactile fabrics is key. What's more, the best and most sustainable natural fibres are treated with technical properties developed to enhance the wearer's physical well-being.
Wellwear is minimalist as in to-the-point - it is fashion, function and feeling without compromise, good for the wearer and kind to the planet.
David Gandy Wellwear's clothing is particularly suited for hot climates due to the temperature control qualities of the fabrics, as well as its use of the best and most sustainable natural fibres which are treated with specially developed technical properties that enhance the wearer's physical well-being. These include anti-odour, anti-bacterial, anti-inflammatory, moisturising and sun protection properties.