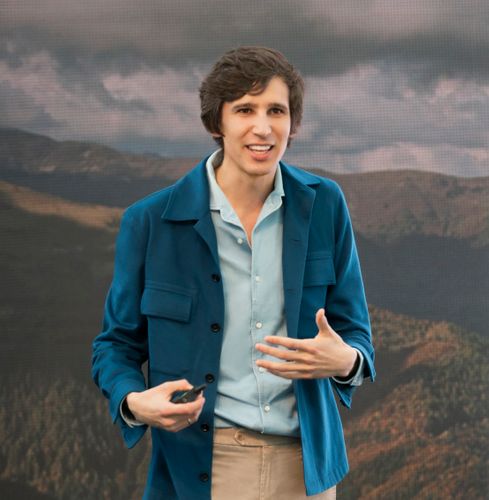 Angelo Zegna

Consumer & Retail Excellence Director
,
Zegna
Angelo Zegna is currently Consumer and Retail Excellence Director at Zegna.
He previously worked for Luxottica in São Paulo, Brazil first and later NYC, USA as well as for Bain & Company in Mumbai, India.
Born in 1988, Angelo Zegna holds an M.B.A. from Harvard Business School and a Bachelor of Science from The School of Foreign Service at Georgetown University.
The road ahead that Ermenegildo Zegna Group keeps following originated in 1910, unwinding through era-defining milestones whilst pointing firmly towards what's next. Such landmarks include the creation of a wool mill that turned into a luxury menswear brand which ignited a Group with an unrivalled textile manufacturing platform; a legacy of environmental protection and sustainability called Oasi Zegna. The road now has lead us to New York, where the Ermenegildo Zegna Group has been listed on the New York Stock Exchange on December 20th 2021, through the merger with a special purpose acquisition company sponsored by Invest industrial.
This road is our inspiration as it defines our path, woven into everything we do for over 110 years by echoing the essential truth of our founder, as Zegna weaves the fabric of a tomorrow that feels worthy of our dreams.
We continue this legacy, to weave the fabric of society, culture, and a new style of life. Just as fabric was envisioned by our founder to be a force for good in the world, the road he built was based on a true culture of beauty and quality. This road has become a forward-looking sign of creative, technical and sustainable innovation we continue to follow.
A road, both real and emblematic, is the link between such different accomplishments, known as 232, running through Oasi Zegna. The 44,5 km long panoramic road in Piedmont, Northern Italy, a veritable symbol of Zegna's progression, is a project that the founder strongly wanted and that the family's later generations unwaveringly completed. In love with the beauty of nature and driven by a deep sense of giving back to his homeland and community, in the 1930s Ermenegildo embarked on a vast environmental restoration project in the area - where the wool mill was established - by planting more than 500,000 trees. Yet his vision went beyond industry. Material profit allowed his painstaking purchase of the then barren lands that made up the 232 road, and later the Oasi Zegna, a natural park of 100 km2, through careful work to reforest and enhance. By doing so he placed his wool mill, and the fabric, at the heart of a much wider community to create a benevolent and mutually sustaining interdependence.
His road has turned into a graphic abstraction to define the new Zegna brand identity: history, as expressed in the family name of the founder, is processed on the inside, woven to the fibres of the Group, in the values that shape its every move. That road is our road: because Ermenegildo Zegna Group has its own road but also because our growth happened organically, following, indeed, a path, figuratively outlined by this road from fabric makers forward. In doing so, an ethical approach in undertaking business guided by a fearless pursuit of excellence and innovation. At the core, what sets our Group apart is the view of the industry as something integrated into the wider social scenario, local as well as global. Such attention to the world outside the factory is mandatory for the Group that, over the decades, has grown steadily sizing up from the production of superior wool fabrics to a global luxury group encompassing the brands Zegna and Thom Browne, and a Luxury Textile Laboratory Platform fostering the best Italian fabrics made through the preservation of precious artisanal mills. The mission, passed on from one generation to the next with visionary entrepreneurial finesse, is to create beautiful things of the finest quality applying a responsible approach to production. In this sense, superb fabrics, impeccable clothing and outstanding accessories come together to preserve a unique ecosystem.
At Ermenegildo Zegna Group, innovation meets belief, seamlessly, in a powerhouse based fundamentally on the stronghold of human force and run on the principle that industrial activities should not harm the environment, to create a lifestyle which marches to the rhythm of the modern times while nurturing a bond to the natural world for a better present and future.
Vertically integrated and with a widening span of activities, the Zegna Group is based on a fearless vision and a quest for innovation, fostering beauty as a value. Investing in a culture of beauty means promoting knowledge, a social capital of relations and trust, but also the symbolic capital of identity and recognizability.
Beauty, for Zegna, is instrumental in generating new thought, in creating connections and dialogue, in producing values shared collectively and internationally. It is the fuel that ultimately activates movement on this road, on OUR ROAD TO TOMORROW.