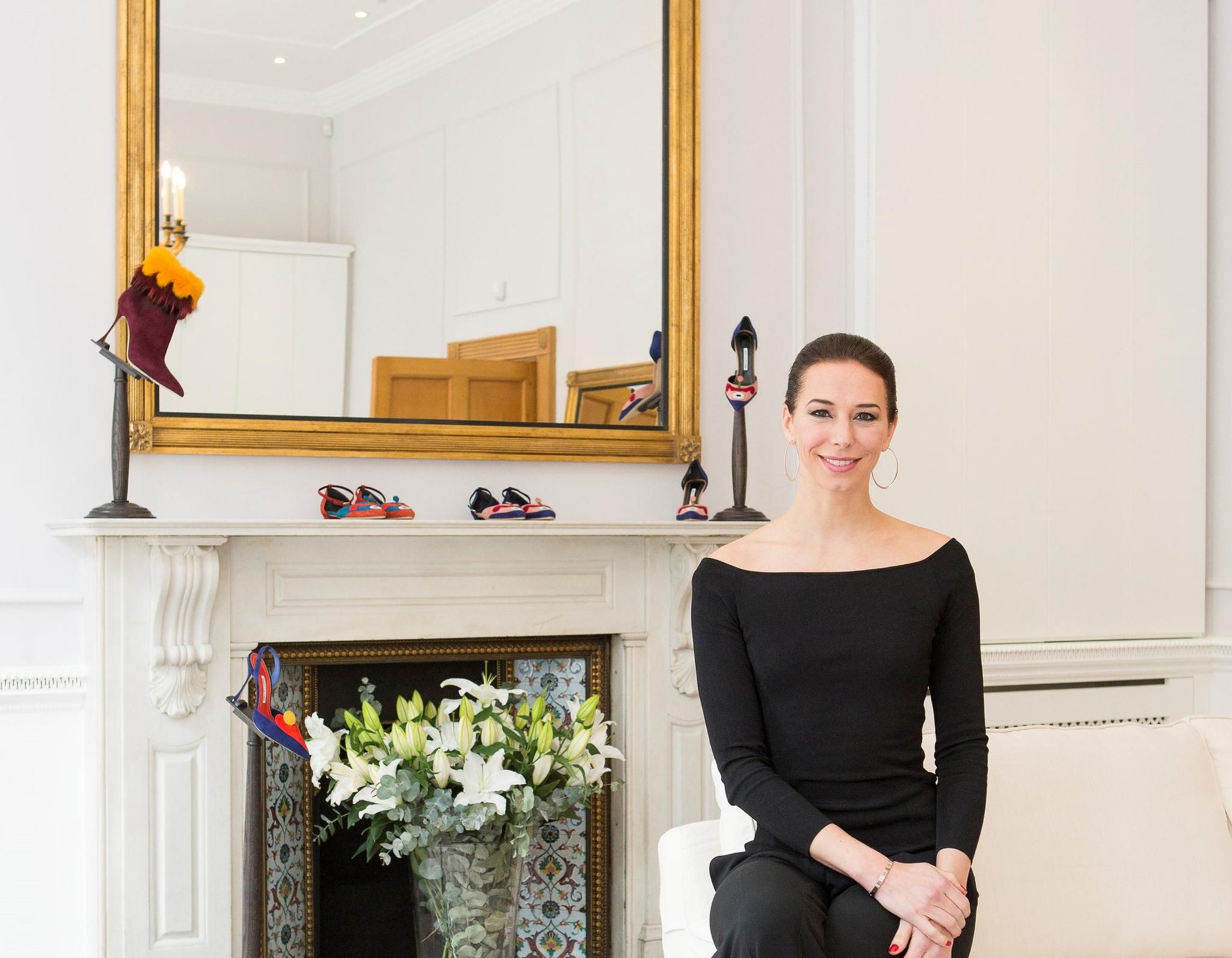 Kristina Blahnik
Kristina Blahnik, CEO of Manolo Blahnik Limited, is both a businesswoman and a creative, a rare fusion who has steered the family run business forward, keeping the soul and the integrity of the brand at the forefront.
"To optimise, not maximise" is Blahnik's key ethos, believing in making decisions driven by heritage and creativity, rather than fashion and trends. Manolo Blahnik is a brand with genuine soul and sincerity; a legacy which Blahnik has dedicated herself to protect. Unlike many CEO's, she plays a pivotal role in the creative process and development of each collection. Alongside her uncle Manolo Blahnik, she visits the factories in Milan and with an inherent understanding of proportion, structure and detailing – she helps make the vision become a reality.
Blahnik's journey began in 2003, when under her architecture practice DNA, designed the space for the brands first exhibition at the Design Museum, as a chartered architect Blahnik has an exceptional eye for detail and why the leap from architecture to fashion has been such a natural transition. Since joining her mother and uncle full time at the business in 2009, Blahnik has been an integral part of the company's many successes and furthermore stepped up to the role of CEO in 2013. Understanding the core foundations of the brand and with a long-term goal in mind, Blahnik can nurture the values and the philosophy; ultimately cementing the future.
Building relations both locally and globally, the younger Blahnik selected partners very carefully. 2010 was the inception of Blahnik's commercial activity, leading a collaboration with Liberty to follow on from the Hermes pop up, which was an enormous triumph. In 2012 the house partnered with Kurt Geiger, with focus to increase the UK's retail footprint in Harrods, Liberty and Selfridges.
Knowing the importance of global, Blahnik looked towards Asia and chose the esteemed Bluebell Group in 2016 to expand the distribution and retail development in select territories (Japan, Singapore, Malaysia and Taiwan with a view to further expansion across the region).
Alongside these commercial ventures, Blahnik has also been fundamental in the creative collaborations, working with the phenomena Rihanna on a three-part collection first seen in 2016, the same year as a co-branded project with Vetements, which won the Best Collaboration at the Footwear News Awards. 2016 continued to be a momentous year with the launch of the brand's first and greatly anticipated ecommerce platform, spearheaded by Blahnik.
2018 saw another historic year, opening four standalone stores in Doha, Geneva, Marina Bay Sands and the brand's first men's store next to its 2016 central London home in Burlington Arcade; which presents the first comprehensive collection with 48 new styles and a line of accessories; featuring pocket squares, umbrellas, scarves and gloves.
The impact, Blahnik has had on the business has been tremendous; she has increased the turnover by nearly tenfold whilst also expanding the employee growth from a team of 10 in 2009 to over 80 in 2019. Looking forward, 2019 will also see further store openings in Taipei, Tokyo, Paris and Hong Kong.
Studying Architecture at the University of Cambridge, Blahnik has always had a passion for space and design. In 2000, she set up Data Nature Associates, with fellow architect Nick Leith-Smith. Over the ensuing 10 years, they worked on numerous residential, commercial, exhibition and retail projects. Awards and nominations include 'D&AD', 'FX', 'Conde Nast Traveller' 'Innovation and Design' and Design Week. Projects published in Wallpaper, Blueprint, Frame, AJ, Evening Standard, Icon and Grazia to name a few.
Blahnik's vision is clear and pure; to lead an innovative, creative team that can push boundaries and challenge the status quo whilst remaining true to the Manolo Blahnik core values and to protect the legacy.

About Manolo Blahnik

With a career spanning almost 50 years, Manolo Blahnik is one of the world's most influential footwear designers. His shoes have spellbound an international set of adoring and loyal devotees across the globe. Blahnik is a craftsman. To this day he makes a trip to the factories in Milan every season for a few weeks to personally bring to life every collection. All the shoes he develops are based on his sketches which are translated into prototypes at the factories. The exquisitely shaped lasts and heels he creates for his shoes are still perfected with his very own hands.
Through the years Blahnik's achievements have been recognised by various bodies in many countries, most recently the Couture Council of America and one of the biggest an Honorary Commander of the Most Excellent Order of the British Empire (CBE) awarded by Her Majesty The Queen. He has also published numerous books, the latest being The Art of Shoes with Rizzoli in 2017. Most recently Mr. Blahnik was awarded the Luxury Legend Award by the independent luxury body, Walpole.
Along with a leading women's line which includes evening and day bags, the brand also has a successful men's collection.
Manolo Blahnik has 318 points of sale in 35 countries worldwide with 18 standalone stores and a re-launched ecommerce platform - manoloblahnik.com.